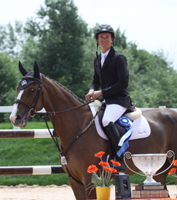 Photo by Katie Anich for PhelpsSports.com
Birthplace:
Birthdate:
Hometown:
Occupation:
Coach:
Stable:
Caracas , Venezuela
May 28, 1985
Wellington , Florida
Full-time Athlete
Eric Lamaze
Torrey Pines Stable
Alejandro Karolyi was born in Caracas, Venezuela, and knew at a very early age that he wanted to ride. When he was around five, his mother introduced him, as well as his brothers and sisters, to the sport of show jumping, which she had practiced all of her life.
By the age of eight, Alejandro was riding on a daily basis and competing every weekend. By 15, he was determined to pursue the sport to its fullest and was competing regularly throughout the United States and Canada. Steadily improving his skills, he was competing at the grand prix level by age 18.
While competing at Canada's famed Spruce Meadows venue in Calgary, Alejandro met many of the world's top show jumping riders including Eric Lamaze, who would become his mentor and employer. Upon completing his finance studies at Mexico's Monterrey Tech University in 2008, Alejandro approached the newly-crowned Olympic Champion for a job at his internationally renowned training facility, Torrey Pines Stables, based near Toronto, Canada. Eric originally offered Alejandro short-term employment, but the temporary job became permanent when Eric offered him responsibility for sourcing, screening, acquiring, competing and selling horses on behalf of his Torrey Pines Stable.
Consistent training and dedication has brought Alejandro remarkable results at prestigious horse shows ranging from Spruce Meadows to Lexington, Kentucky, to the Winter Equestrian Festival in Wellington, Florida. In 2009, Alejandro rode as a member of the Venezuelan Team in the Nations' Cup in Wellington, FL, alongside his younger brother, Angel Karolyi, who is also a grand prix competitor. In 2011, Alejandro enjoyed his first international victory, winning the $31,000 Parcours de Chasse riding Vichy during the Spruce Meadows "Continental" tournament in June of 2011.
Alejandro's ambition as a professional rider is to compete in the world's top show jumping competitions, with a concrete goal of representing his native Venezuela at the 2016 Olympic Games.
---
Stouten's Zanagra
2004 bay Dutch Warmblood mare by Quidam de Revel x Calvados